Now that I need to practice colliding feathers so I can do Brent's quilt, I'm making myself do this one.
Had an adventure with my Necchi the other day. It started making a noise that got worse over the 1.5 hours I was trying to find it and remedy it. Since I'm treadling this machine, it has no motor so I knew the sound had to be due to metal on metal without appropriate lubrication. Didn't know where my stethoscope was to help me pinpoint it. Finally realized I had direct access through the hole where the motor used to be mounted. Used lots of Tri-flow through the back. It's back in good working order, but now I know that I can't necessarily depend on the oil ports to deliver enough lubricant. I also lubricated where the pitman rod meets the treadle platform, so this machine and its irons are now super quiet!
Have to head to the city for therapies and an appt. with the neuro-ophthalmologist, so I won't finish as much quilting as I'd like today.
Linking to Connie Kresin's Quilting by the River and Fabric Tuesday (because this is one of my all time favorite fabrics):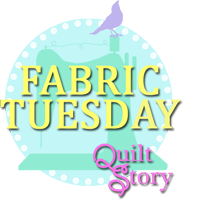 Happy quiltmaking....