...except for being signed, and it still needs binding.
I quilted feathers with s-spines in the borders--3 different colors of thread, alternating a
Fil-Tec Glide
green, a Fil-Tec Glide pearl, and a
ThreadArt
variegated that ranged from almost ivory through apricot.
The border is beautiful, but, boy, did I get tired of rethreading the machine. I like the effect, but I don't think I'll try so many color changes on a border again--at least not for a while.
I do love the serenity this border adds to the quilt. This quilt was made from two Moda charm packs,
3 Sisters' Papillon
, from a quilt designed by
Mary Lane Brown
from the old Florida cracker pattern and featured on the
Moda Bake Shop
. This quilt was made entirely on my ca. 1940's Necchi BU in a 1919 Singer treadle cabinet. (Yep, it represents a lot of treadling!)
And this is the little lady who will receive the quilt. Blanche is almost five months old, and look at the personality in that face and those eyes. Her mother's eyes were equally as deep blue at that age. (Blanche was designed by Karen and Max and named for Karen's paternal grandmother, who died almost 60 years ago.)
Now that I'm pretty much finished with the fun of quilting, it's time to get the binding cut and applied. I once let a quilt sit around for almost a year waiting for the binding to be sewn to the back! I need to be a bit quicker this time. I'm pretty sure I should have cut out the binding when I pieced the quilt--would have made it less painful!
I'm going to link to Connie Kresin's Quilting by the River:
as well as Quilt Story: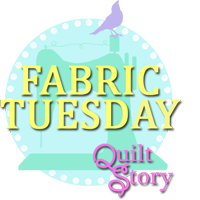 and, in the hope that this won't be a WIP for long, to
Esther's Blog
(sorry, tried numerous times to paste the html for Esther's pretty little badge, but it didn't work).
...blogs where you can catch up with and be inspired by what a lot of other quiltmakers are working on this week.
Happy quiltmaking.......