Finally!--I'm quilting Baby Blanche's Robin's Song.
No, I will not be posting pictures of myself piecing the backing, or layering it, or pin basting it. Not a whole lot of fun, just necessary steps.
Right now I'm only at the point of stabilizing it with very fine thread. As you can see, it's on my Necchi BU (treadle) from the late 40's. Once it's stabilized, I also want to spend some time at my 1936 Singer (in it's original straight leg treadle). I love the view from the Necchi, but I like the space at the Singer, and that one is out of the afternoon/evening sun (although the view from the Singer in the morning is pretty great too.)
I thought I'd be at the fun part of quilting by now--but I had two therapies today and spent time re-organizing paperwork into more file folders and time on the phone with people working out various logistics.
Sweet Teen left for her BF's family's shooting range while I did more paperwork [she tells me she's practicing with their 22], and now, instead of starting more quilting, I need to back off and let my poor horribly aching head rest. Then I'll get back to some fun stuff!
There are some lovely people having linking parties, so I'm linking this too.
Please visit Connie Kresin

and Heather and Megan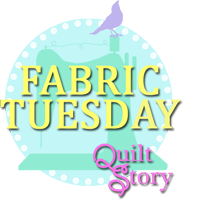 Since it's so late in the day that I'm finally posting, I can assure you that there are some glorious projects already posted. I'm sure we'll all enjoy visiting the blogs and leaving comments.
Happy Quiltmaking......